media update
's Taylor Goodman unpacks what writing for search engine optimisation (SEO)
actually
entails and gives three tips on how you can adapt to this writing style. 
Before diving into the specifics of how to become a better SEO content writer, it is crucial to have a solid foundation of the basics. 
Simply put, SEO-friendly content is written in a way that "not only pleases the writer but the search engine as well."
By tailoring your writing for SEO, you are increasing the likelihood of your content ranking on the first page of a search engine, which can help you to get more people to read your content. 
Need more convincing? Then just think about the fact that the first page of Google garners 71% of search traffic clicks. Insane, right? So, if you want your content to be read, that's where you should aim to be. 
Now, it is all good and well to say that you should write SEO-friendly content, but how do you actually achieve this?
Look no further than these three tips:
1. Do keyword research
Keyword research is the foundation of all SEO content writing. Why? Well, without it, people wouldn't be able to find your content. 
Rachel Leist from Hubspot defines the act of keyword research as finding and analysing terms that people enter into search engines with the goal of using that data for SEO.
The first step in your keyword research should be to ask the following questions:
What sort of content is your audience searching for?
How many people are looking for this information?
How does your audience want this content to be formatted? 
By answering these questions, you will be able to form a clearer understanding of your audience, as well as how they search for content. 
The next step in the researching process is uncovering your keywords. It is likely that you already have a few ideas in mind. Remember, these keywords will need to relate to the content that you're writing, your brand's product range or the services that you offer. 
You can measure the strength of your keywords with a programme like Keyword Tool. This application will show you the search volume, which refers to how many times this word is being entered into Google. 
As you uncover these related keywords, you will be able to build on your list and identify content gaps on the topics you hadn't previously thought of. 
Let us say that you are writing about the sales funnel, for example. When doing your research, you may find an angle that relates to this topic, but isn't as populated.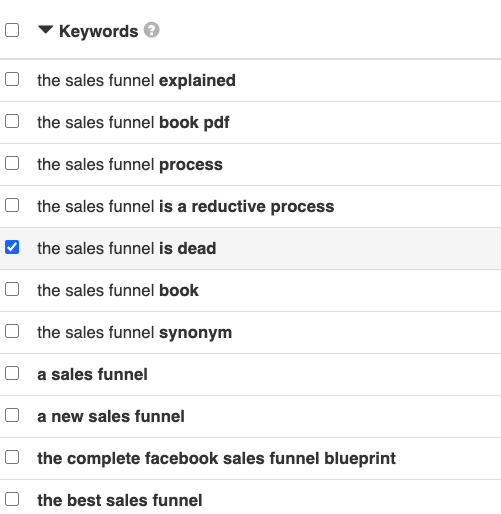 © Keyword Tool
By writing a piece on the sales funnel that looks at the theory from a different angle, (like 'the sales funnel is dead'), you can write a new piece for your audience with a unique perspective — this gives you far less competition from an SEO standpoint. 
Once you have compiled a list of keywords, you should rank them according to priority. 
You can do this by asking yourself:
Which keywords drive traffic?
What is the most relevant with your audience? 
Which keywords are the least competitive and don't have the most content tied to them?
Once you have ranked your keywords, you further finetune your SEO writing by determining searcher intent.
2. Understand searcher intent
Understanding searcher intent is the foundation of all SEO writing. It would be difficult to create winning content that ranks high without knowing what your audience actually wants to see. 
When trying to understand what your audience wants to see first, you need to have knowledge of the different types of search intent. 
The four main types of search intent are: 
Informational
Users making informational searches are trying to find out more about a specific concept. These users are also at the beginning of the sales funnel and are not ready to make a purchase … yet. 
An example of a question that a user with informational intent would search is 'What is SEO?' 
Comparison
Users that are making comparison searches are deeper into the sales funnel and are  in the evaluation stage. 
Here, they are trying to decide which option is best for them so that they can make a more informed purchasing decision later on.  
An example of a comparison search question is 'Apple versus Android.'
Transactional
A user with transactional search intent is at the bottom (or decision phase) of the sales funnel and is looking to make a purchase. 
An example of a transactional search query would be 'buy an iPhone.'
Navigational
Lastly, we have navigational search intent. A user making these types of searches already has decent awareness of your brand, and are likely to be an existing customer. 
An example of this type of search would be simply searching 'media update' if you are an avid reader of our site. 
It is important to note that any searches a user makes usually relate to one or more of these types of searcher intent. 
Now, you may be thinking, 'I'm not in the mind of your reader, how would you know what they want to see?' 
Asking yourself these three questions could help with that:
What is the user looking for when searching for a specific keyword/phrase?
What problem are they trying to solve?
What solution are they looking for?
By answering these questions, you will form a clearer understanding of what the searcher wants, which you can then use to create quality content.
3. Create a solid content strategy
Once you have done your keyword research and have established search intent, you can finally start working on writing content. 
One of the main things to focus on when writing for SEO is how you can set your content apart from the rest and what your intentions are when writing a piece. 
Ask yourself if you are trying to make a sale, educate your audience or simply entertain them. Once you determine your intention, you need to know how you can tell this story in a unique way — the content space is a saturated market after all. 
When observing your competitors' work, there are four elements that you need to pay attention to. They are: 
Media
When looking into your competitors' work, take note if they are using videos, images or audio clips. If they are not integrating alternative types of media into their content, use this to your advantage. Diversifying your content not only makes it more unique but also makes it more interesting for your audience to read. 
Site Design
Are your competitors more interested in monetisation of their site than they are in their content? This could count against them. As Nathan Gotch explains, "websites that perform well in organic search are usually user and content-centric."
Instead of overwhelming the user with pop-up ads, you should focus on providing them with quality content that offers a solution to their problem. 
Readability
Sometimes simplicity is key, and this is especially true when writing for SEO. You want to keep your content snackable, informative and easy to read. 
You can achieve this by including media, breaking up long blocks of text with bullet points or subheadings and writing in a concise and simple manner. 
By identifying where your competitors' content is lacking, you will be able to do what they do — but better. This is because your content will be unique and tailored to your audience. 
After doing a competitor analysis, you can work on creating your content brief. This is essentially a summary of what you hope to achieve with your content. 
This should include:
your keyword list
a content outline of the points you aim to cover in your piece
the estimated word count
sources (any research you plan on using), and
the tactics you will use to differentiate this content from competitors 
Once you've gathered all of this information, you can work towards creating some quality content! 
Which of these tips are you going to include in your SEO strategy? Let us know in the comments section below.
Want to stay up to date with the latest news? Subscribe to our newsletter.
Do you want to know more about writing SEO-friendly content? Then be sure to check out our article, Five reasons why relevant content will skyrocket your SEO.
*Image courtesy of Vecteezy
SEO writing SEO writing for beginners SEO content writing tips what is SEO writing SEO content writing tools