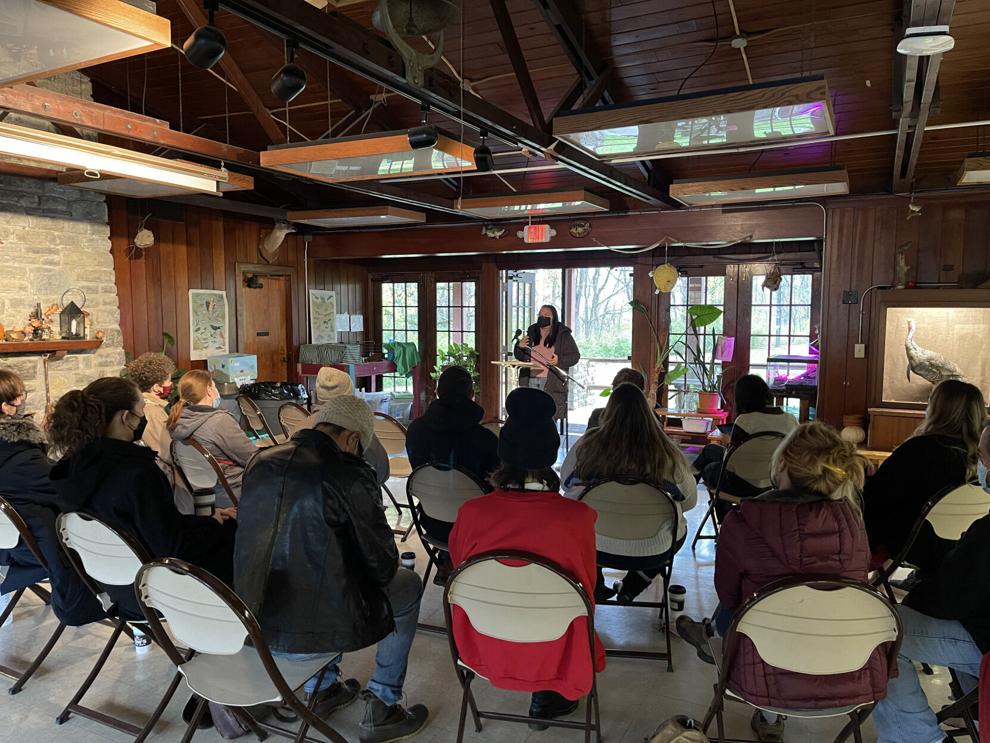 The University of Cincinnati (UC) English Department hosted their Writing in the Woods: An Eco-Lit Celebration on Nov. 21, featuring both poetry and prose from UC undergraduate and graduate students as well as members of the community. 
Hosted at the LaBoiteaux Nature Center in College Hill, the event was organized by Maia Morgan and Michael Peterson, community engagement coordinators for the university, to highlight English students and their work in the course "Creative Writing in the Environment."
Taught by Felicia Zamora, associate professor of poetry, the class is "all about thinking in twofold," said Zamora. 
"How do we as humans connect with nature being natural beings in a natural world and what are concerns and areas of emphasis within climate change and the environment changing that these artists and individuals wanted to learn about," said Zamora.
"Felicia wanted to have an event where her students could read their work as an end of the semester event," Morgan said regarding the inspiration behind the event. "I've been wanting to do something at [LaBoiteaux], so we contacted them to see if we could have it here [and they agreed]. We were really excited by this space."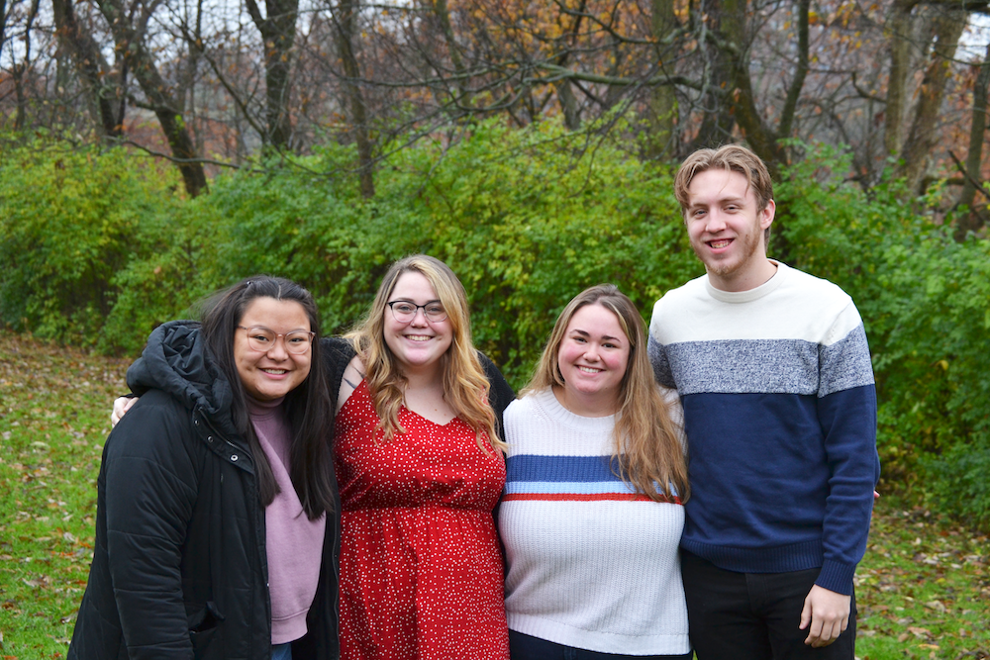 Throughout the semester, Zamora and her students read books from environmental writers such as Robin Wall Kimmer and Aimee Nezhukumatathil and went into the environment and took field notes. This supplied them with the knowledge to write about various topics, ranging from vegan milk to who is at fault for climate change.
Although science and creative writing don't often intersect, Zamora and her students found ways to combine the two. 
"A lot of these students were looking up data and taking their field notes and investigative summaries and making creative work that spoke to it," Zamora said. "They were learning how to use a strong statistic within a poem and how to create an essay that has powerful information about an axolotl or a corpse flower or something that's very interesting."
In addition to bridging the gap between science and creative writing, the class forces the students to find joy and hope in the environment when most discourse surrounding the environment is pessimistic. 
"We could have done a lot of different trajectories in the class, including the overwhelming despair that comes with climate change," Zamora said. "But we're not focusing on that. We decided to focus on joy and our human aspects of connection to nature. It felt extremely important to have the positivity of hopefulness in our conversation."
The event, which was hosted in a cabin at the nature center, gave students a chance to celebrate their work made in the class and outside of it, all pertaining to nature. Themes discussed included birds, climate change, eco-feminism and more, demonstrating the breadth that Zamora looked to achieve by allowing her students to focus on a topic of their own interest.
One of the students featured at the event was Leah Joseph, a third-year English student who read at the event. 
"What we're doing is trying to take the theme of the environment and implement the urgency of that into our creative writing," said Joseph. "It's just the way that everything comes together from the reading, the writing exercises, the critical thinking. I really surprised myself by creating work that I never thought I could."
One of the aspects that Joseph surprised herself with was her ability to approach climate change with a sense of hope. 
"I feel like I'm flooded with negativity about climate change, so hearing someone say that we can have hope for the world is very strange," Joseph said. "It was a huge challenge to look at it from a lens of hopefulness."
Despite the challenge of looking at climate change in such an untraditional light, Zamora feels that her students rose to the occasion and, in turn, provided hope for the future and the climate.
"They've really creatively looked at the topic, from writing Cli-Fi stories to their own almanac of the milky way and more," Zamora said. "Art is a very powerful tool to change people's minds. We think of art, poetry, fiction and nonfiction as a way to change people's minds, to sway people to think about their habits – and that's what we need to help move the needle."