NEWS | FEATURES | PREVIEWS | EVENTS
originally published: 11/23/2021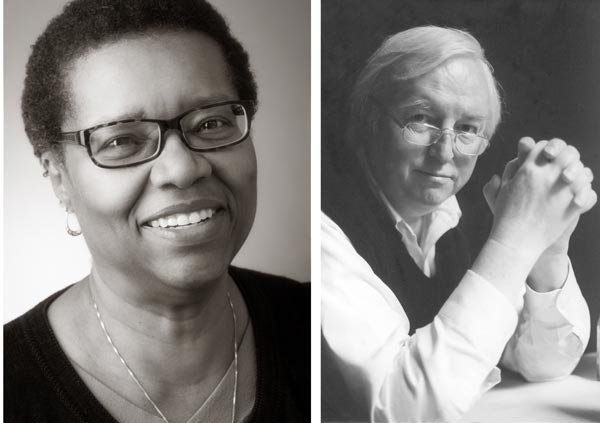 (WASHINGTON TWP, NJ) —  Original and traditional holiday poetry highlight Warren Community College's next Visiting Authors Series event on Thursday, December 9. This online reading features Dr. Gretna Wilkinson and Sander Zulauf. The event, which begins at 7:30pm, can be accessed at this link. It is free and open to the public.
Dr. Wilkinson began her career as a missionary teacher in the jungles of her native Guyana. She is the author of five chapbooks. Her latest, Opening the Drawer, was published by Cool Women Press. A Dodge Foundation Poet, she is published in Saranac Review, The Literary Review, and The Poets of New Jersey: From Colonial to Contemporary, among others. She's been featured in The New York Times, The Star-Ledger, Courier News, and others. After 17 years as a college professor, she joined the Visual and Performing Arts Academy of Red Bank Regional High School where she ran the Creative Writing program. She is an honorary Eagle Scout, Monmouth County Art Educator of the Year, Red Bank Regional Teacher of the Year, and was awarded Claes Nobel Educator of Distinction.
Zulauf founded and edited the first ten volumes of Index of American Periodical Verse (1971-80) and is editor emeritus of the Journal of New Jersey Poets. He retired as professor emeritus after 44 years of teaching writing and literature. His books include Succasunna New Jersey (Breaking Point), The Poets of New Jersey: From Colonial to Contemporary (Jersey Shore), Living Waters (St. Dunstan's), Where Time Goes (Dryad), and Bashō in America (iUniverse—Rising Star). He produced and directed three video disc anthologies of distinguished American poets reading their poems, The First American Poetry Disc, Vols. I-III (County College of Morris). He edited and published two posthumous volumes of poetry by Joe Salerno, Dream Paintings from the Heaven of Obscurity and Only Here (Ars Poetica). In 1999, Bishop John Shelby Spong appointed him first poet laureate of the Episcopal Church in the Newark Diocese.
The Visiting Authors Series is supported by a grant from the Warren County Division of Cultural & Heritage Affairs. All physical site facilities comply with ADA regulations and are fully accessible. Sign language interpretation for any VAS event is available with two weeks' notice.
To attend the reading, please follow this link. After the simple registration process, you will receive a confirmation email containing information about attending the virtual reading.
Advertise with New Jersey Stage for $50-$100 per month, click here for info
---
Warren County Community College, located at 475 Route 57 West in Washington, Warren County, offers students the option of earning an Associate of Fine Arts in Creative Writing, the first and only degree of its kind in New Jersey and a member program of the Association of Writers and Writing Programs (AWP).  
PHOTO: (Left) Dr. Gretna Wilkinson (Right) Sander Zulauf
Advertise with New Jersey Stage for $50-$100 per month, click here for info
---